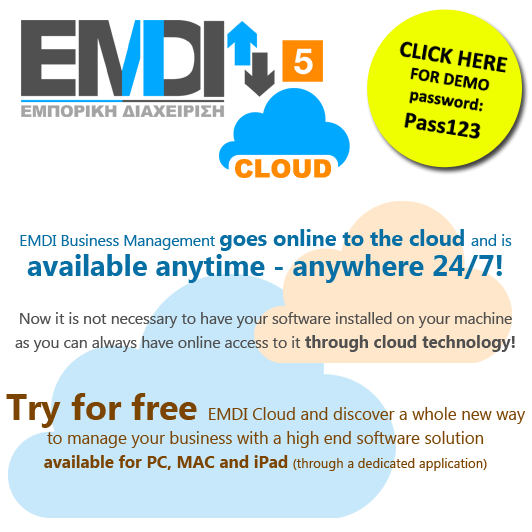 EMDI CLOUD
EMDI Business Management goes online to the cloud and is available anytime – anywhere 24/7!
Now it is not necessary to have your software installed on your machine as you can always have online access to it through cloud technology!
Try for free EMDI Cloud and discover a whole new way to manage your business with a high end software solution available for PC, MAC and iPad (through a dedicated application)
Contact us at +44 2037347158

We can transfer your data from an older software to the database of EMDI Business Management Cloud, so that we can ensure you that all of your data will be always there for you!

Lease for €29 per month!

Payments are accepted through bank transfer, credit card or Paypal.
EMDI software regularly checks the license code online, so that we ensure that your payment has been sucesfully done.
EMDI Cloud is fully compatible with all modern versions of Windows (XP, Vista, 7, 8, 8.1), all modern versions of MAC OS X (Snow Leopard, Lion, Mountain Lion, Mavericks) and iPad (through a dedicated application)!
Contact us at +44 2037347158