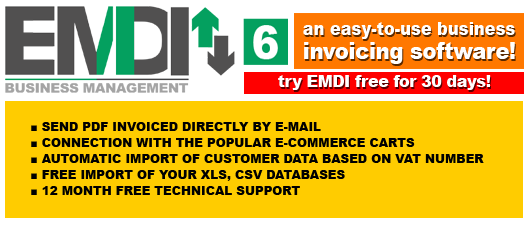 EMDI – Business Management is an easy-to-use business invoicing software that offers a range of powerful features to make your life easier! Our main focus has always been to keep the software simple and incredibly easy but also flexible and fully customizable.
3 methods of payment:


• Free online installation and training available
• Automatically import of customer data, based on VAT number
• Customers/Suppliers/Contacts database
• Products/Services database and stock control
• Create professional invoices, orders, receipts etc. manually or recursive
• Create your own invoice layout and style
• Send PDF invoices directly by email
• Built in automatic backup System
• Calculations for VAT or any other tax
• Fully configurable VAT rates
• Automatic updates
• View and Print Customers/Suppliers History
• Excel/csv import/export
• Create reports with charts and graphs
• Fully barcode support
• Works fast on a network environment even via internet.
• Free import of your old customer/supplier/contact/products/services databases
• New search technology that gives you faster database results
• Connection with the popular shopping carts (opencart,cscart,virtuemart,whmcs etc.)
• 12 month free telephone and email support
• Very easy ePOS environment
– Keep track of your products and services
Using EMDI allowing you to instantly see how many items you have in stock, which of them running low And full reports of what you need to reorder and who from. Manage your products, services, contacts, customers, suppliers, quotes, orders and any kind of document you need.
– Personalized price lists for each customer/supplier
Profits and multiple VAT rates for any product or service.
Organize your products and services by creating categories, making it easy to navigate your inventory.
Color coded product inventory to instantly alert you about stock levels.
– Contacts/Customers/Suppliers management
Keeping track any of your contacts, customers and suppliers, now is easy!
Like a search engine find your customer and you are ready to add to quotes, orders and much more.
Track your customers' purchases to view their order history instantly.
– Quotation to invoice at once
In purchases/sales section you can create quotations, issue invoices and keep track of which has paid and which hasn't.
Creating quotations, orders, invoices etc. is easy and needs just only a few clicks.
– Electronic point of sale
EMDI features a virtual ePOS (electronic point of sale) screen that allows you, combined with a thermal (receipt) printer and barcode scanner, to issue receipts.