EMDI is linked to Shopify to make it easier to organize your business warehouse.
Procedure
When we press insert on sales, only the ones that are unfulfilled appear in the order list.
When it is sold it is sent to Shopify the status fulfilled.
Settings for Shopify connection.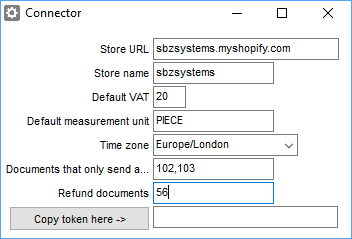 Documents that only send availability: Here we put the line number of the documents that when they are issued inform the Shopify only for the new availability and not for the status of the order. Also in this case, in the order notes, the word "open" is entered so that we know there is some movement.
Cancellation Documents: We put the number of line items we use to cancel the order or invoice. In this case the order in Shopify is void and becomes void.
* Creation of the token requires installation of private app (Apps –> Manage private apps (link below store apps)